Zeolite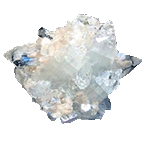 Usually used as commercial adsorbents and catalysts, Zeolite is microporous, aluminosilicate mineral that naturally occurs, but are also produced industrially on a large scale.
Uses of Zeolite
They are widely used as ion-exchange beds in
Domestic and commercial water purification
Softening and other applications.
As with heating and refrigeration, they are used as solar thermal collectors and for adsorption refrigeration. The global laundry detergent market is the largest single use for zeolite. As with 1992, this amounted to 1.44 million metric tons per year of anhydrous zeolite. They are also functional in Aquarium keeping, for use as a filter additive. Mainly, they are used to adsorb ammonia and other nitrogenous compounds.