Vanadium is a soft and ductile, silver-grey metal. It has good quality resistance to corrosion by alkalis, sulfuric and hydrochloric acid. It oxidizes eagerly at about 933 K (660 C). Vanadium has good structural strength and a low fission neutron cross section, making it useful in nuclear applications. Although a metal, it shares with chromium and manganese the property of having valency oxides with acid properties.
Common oxidation states of vanadium include +2, +3, +4 and +5. A popular experiment with ammonium vanadate NH4VO3, reducing the compound with zinc metal, can demonstrate colorimetrically all four of these vanadium oxidation states. An oxidation state of +1 is rarely seen.
Most continental waters show a vanadium concentration of less than 3 ppb. However, the groundwater of Mt. Fuji contains a very high concentration of vanadium-up to 150 ppb. This vanadium is solubilized from the basalt by the groundwater. The vanadium content in Mt. Fuji becomes higher at places nearer the summit and deeper in the ground. Recently this high-vanadium water of Mt. Fuji has been sold by many companies as an agent to cope with diabetes. However, there is no concrete evidence for its efficacy. The rainbow trout living in the Mt. Fuji water showed much higher accumulation of vanadium in kidneys and bone.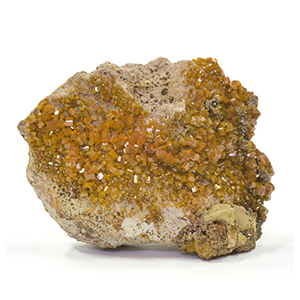 Powdered metallic vanadium is a fire hazard, and unless known otherwise, all vanadium compounds should be measured highly toxic. Generally, the higher the oxidation state of vanadium, the more toxic the compound is. The most dangerous compound is vanadium pentoxide.